Somewhere within the first paragraph of Blogging 101, it clearly states that your blog should have a specific niche. There are food bloggers, mommy bloggers, DIY bloggers, fashion bloggers, lifestyle bloggers, travel bloggers, hell, there are even bloggers who blog about blogging.
I tried to label myself as a "hockey wife blogger" for a bit, but that got old (and barf worthy) really fast. I also tried to label myself as a "life and style blogger," until I realized that I'm the last person who should talk about fashion because I spend most of my days in yoga pants and tank tops.
If you don't have a blog then you might not understand what I'm about to say ... but there is a lot of competition in this blogging world to have high readership numbers, or to write the most commented on post of the week, or to be the next big thing.
It's really exhausting sometimes trying to keep up with it all.
And once I stopped trying to conform to a specific niche, and I stopped caring so much about my numbers, and I stopped trying to xerox what a more popular blogger than myself was doing, my readership started to grow. And I found my voice. And I became more comfortable and confident with my content here.
And most importantly, I became authentic. Which led to me weeding through and finding other authentic bloggers who break the blogging rules and publish whatever the hell they feel like publishing each day. I quickly found that these bloggers are the ones who motivate me daily to keep this place fresh and fun, and they inspire me much more than any self-dubbed "inspiration blogger" or "popular blogger" ever could.
So the moral of today's story is this: Stop trying to conform to whatever you think a blogger "should" be doing. Blogging isn't a new "thing," someone already published a post today that you planned on publishing tomorrow (that bastard!), and the probability of you becoming popular in an already overly crowded niche is slim to none. So write for you!
Doctor Seuss didn't tell us this when we were five years old for nothing: Be who you are and say how you feel, because those who mind don't matter, and those who matter don't mind.
***************
And now, I'm going to introduce you to one of my favorite
motor boating sonofabitch
bloggers I was referring to up above,
Sarah
. We did a little Q&A so that you can learn more about her ... and you'll probably learn a little more about me, too. Enjoy. xo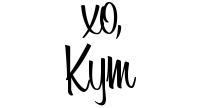 follow me on: bloglovin' // twitter // facebook // instagram // pinterest